Vegetarian Protein Sources / Vegetarian Calcium Sources / Vegetarian Iron Sources / Vegetarian Fiber Sources / Vegetarian Fat Sources / Vegetarian Magnesium Sources / Health Facts / Vegan Recipes / Vegetarian Organizations / Celebrity Vegetarian Interviews . . . . . / SoyStache Project / SoyStache Home / A Letter From the Cows / Raw Food Links / Famous Vegetarians and Vegans / Natural Weight Loss Diet / Vegetarian and Vegan Events / Extensive Vegetarian & Vegan Links / Jesus - vegetarian / "Not-So-Famous" Vegetarians / Raw Food info / Vegan Books / Raw Food Books / Nutrition Tables / Animal Rights Events / Vegan Travel / Raw Food Events /Vegan Poems / Raw Food Articles / Raw Food Restaurants / Images / Avoid Sunburn / Raw Potluck / Health Retreats /
Stop Migraines / Vegan Vitamin D / A Very Vegan Thanksgiving! /A Traditional Turkey Dinner! / Christmas & Christmas Dinner / Contact us / Email List / Search! . . . . . . . . . . . . .
---
---
LOSER of the Month Award!

Focussing on individuals or groups demonstrating spite towards vegetarians.
A special award given to individuals publicized in the media, who have acted blatantly irresponsible and/or unprofessional towards vegetarians or vegans, especially with spite or in a vindictive nature. [not necessarily given out every month]

Updated 9/1/08

---
Was Sir Paul McCartney reading our web site? Specifically our "Loser" section? Or was Gordon Ramsay, again, quoted regarding his discomfort with alternate diets? Apparently Paul doesn't like Gordon Ramsay's poor attitude either...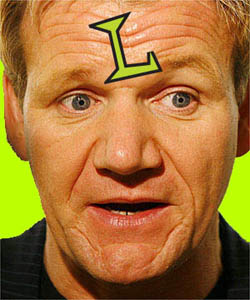 McCartney slams Ramsay for 'stupid' vegetarian rants
Melbourne, August 30: Sir Paul McCartney has slammed celebrity chef Gordon Ramsay for making "stupid" remarks about vegetarians.

Sir Paul, a vegetarian for more than 30 years, says that he was really irked by reading what Ramsay would have done had his children decided to embrace vegetarianism.

"I think it's a case of live and let live. I will talk to people about the advantages of vegetarianism, and it will upset me if we've had a good conversation and they turn around and say something stupid," news.com.au quoted Sir Paul as telling a British supermarket chain's magazine.

"I just read a quote from Gordon Ramsay . . . 'If my daughter ever grew up and married a vegetarian, I'd never forgive her'. But even that I would forgive because it's not my affair, it's not up to me if he talks stupid or not," he said.
Macca slams 'stupid' Gordon Ramsay for anti-vegetarian rant
The foul-mouthed chef has annoyed the music legend by saying he could not tolerate it if one of his three daughters came home with a vegetarian boyfriend.

Kitchen Nightmares star Ramsay said recently: 'If one of my daughters' boyfriends turns out to be vegetarian I swear to God I'd never forgive them.'

In another tirade, he said: 'My biggest nightmare would be if the kids ever came up to me and said "Dad, I'm a vegetarian". Then I would sit them on the fence and electrocute them.'
---
"A useful measure is that the uncool and bellicose Gordon Ramsay - who has gone public about the pleasure he gets from boiling lobsters alive - has already exhibited his violent distaste for vegetarians'

From the article: Non-animal magnetism (11/2/07)
---
With his frequent fear/anger outbursts and antics regarding vegetarians, mr. ramsay is on his way towards being "loser of the century" (or even millenium?) Hopefully he won't kill any vegetarians (or anyone for that matter) in the process. Can you say "therapy"?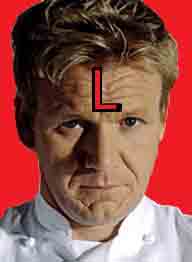 'Skinny Girls Aloud don't eat,' says Gordon Ramsay
3rd May 2007
Hot-tempered Gordon Ramsay put Girls Aloud firmly in the firing line with a scathing on air swipe at their weight.

The celebrity chef criticised the stars for being too thin, and scoffed at Kimberley Walsh's assurances that the group adores food, according to the Daily Star.
More....

Gordon Ramsay didn't hold back in his comments to Cheryl Cole and her fellow bandmates

Nadine Coyle's thin pins were on display when she stepped out in London recently
He said: "By looking at how skinny you are, you don't eat food."

Within moments of the band arriving at the restaurant where his Channel 4 series is being filmed, Ramsay quipped: "Girls Aloud on The F-Word - you do realise this is a cooking show?"

Ramsay also got Cheryl Cole, who is a strict vegetarian, offside by only serving venison for the main meal.

Cole, who is married to Chelsea player Ashley, was shocked that there was not a meat-free option.

Ramsay's response was cutting: "Didn't you get the message? Vegetarians aren't welcome here."
---
---
Okay... There seems to be a pattern here! The man certainly seems to have some issues. He appears to have some serious insecurities about his diet. Anyway, he has earned the "loser" award once again: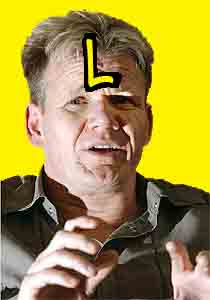 Gordan Ramsay's vegetarian threat
Wednesday, 25th April 2007

LIFE STYLE EXTRA (UK) - Gordon Ramsay has threatened his children with electrocution, if they ever dared turn vegetarian.

The TV chef - famed for his tyrannical methods in the kitchen - said it would be his "worst nightmare" if his children turned their backs on eating meat, and joked that he would electrocute them as a punishment.

Gordon teasingly told Britain's Daily Mirror newspaper: "My kids are very naughty. So when they don't do their homework I take them out and put them on the electric fence I keep my two lambs in and give them a little jolt.
---
Alright... He may not be deserving of another "Loser of the Month" award, but, given his history with vegetarians,
Gordon Ramsay certainly deserves a "dishonorable mention" for his latest episode of contempt towards vegetarians...
3/23/07
Gordon Ramsay Has an `F' Word for Vegetarian Eatery at Awards
By Richard Vines
March 23 (Bloomberg) -- Canteen, a London eatery serving British classics such as roast pork with apple sauce and fruit crumble with custard, was named Best U.K. Restaurant at a ceremony in London last night hosted by the Observer Food Monthly.

The Spitalfields venue pipped Gordon Ramsay's Maze, in Mayfair, whose menu is made up of tapas-sized French dishes with an Asian twist. Last year's winner was Chez Bruce. Ramsay presented the awards, along with one for a vegetarian restaurant.

``I can't believe I'm ****ing doing this, a vegetarian award,'' the chef said as he handed the trophy to Cafe Maitreya, a restaurant in Bristol whose menu includes fettle and nettle tortellini and kohlrabi, beetgreen and gruyere lasagne.
---

Ramsay's pizza joke outrages vegetarians
By Roya Nikkhah
Telegraph.co.uk Sat, 14 May 2005

Gordon Ramsay, the celebrity chef has sparked outrage after feeding meat to a vegetarian in his new television show.

[Gordon Ramsay's new television show is on the Fox Network. The title is "Hell's Kitchen". Seems appropriate, as some might call him a devil!]
---

3/1/2003
by Jim McBeth

CELEBRITY chef Gordon Ramsay was caught in a storm of controversy yesterday after admitting duping a group of vegetarian diners into eating chicken.
[do I smell LAWSUIT?]
---
---